Description
Have you ever wished you had an extra sidekick quad to help you recover your main machine from a tree?
Or perhaps one you could deploy from the comfort of your car to recon a new spot without the hassle of going out and walking there?
Or maybe just an ultra-compact video rig to give your loved one an excuse to rip a few packs under the pretense of documenting your vacation?
Well, the Wingman is all of that, and much more!
The idea for this frame stemmed from Dave C's nano long-range, concept -obviously!-
I was immediately hooked on the idea of being able to pop a single, general-purpose 18650 li-ion cell on a quad and cruise around longer than with any of my freestyle rigs
Back then the only frame option was the original 3D printed one
I knew I could greatly improve upon the concept by utilizing carbon fiber, but I also knew that by the time I would be ready to release, I wouldn't be the only one with a CF arms nano LR
So I decided to up it a notch; I've had this idea of folding arms in my head for a while, and the lightweight, low load use case of that format would be the best proving ground for it
Over a year in the making, after many iterations and countless hours of testing and tuning later what is the result?
The first-ever foldable and soft mounted arms in FPV
The major unique feature of this frame kit is obviously the folding arms
And the way it manages to achieve this feature in such an integrated manner is where the whole secret sauce resides
This 3″ 1S format offers the possibility to push incredibly intricate ideas down to an incredibly simple execution thanks to the low prop load
In this case, I've chosen to make the top and bottom plates clamped to the standoffs,
While using the same standoffs as pivots for the arms, themselves sandwiched between 2 TPU shims and a nylon spacer to press them down in position
Those TPU shims also serve 2 purposes at the same time; they primarily provide friction for the quick deployment of the arms, while also dampening the junctions
This helps reduce the number of vibrations transmitted to the FPV and HD camera (more on that in a bit) and the FC gyro, enabling smooth footage and easy tuning
Ultra-lightweight, durable and compact design
The spaceframe carbon fiber body was meticulously designed to only keep material where absolutely necessary
This includes protecting all the electronics and maintaining a rigid platform,
While pocketing everything else for lightweight and airflow
Making it only 24g frame only, or 60g ready to fly excl. battery
Quick-release arm mechanism
For being designed around ease of use and quick deployment, I went for a friction fit with a light detent to hold the arms open
Just simply pull the arms out until the detent clicks, and push them back in when you're done
That means no manual latch, no thumbscrew, no positive lock
This also means that in the event of a crash the arms might fold and you would need to go get it…
…But you're also more likely to be able to take off again without any damage, as I've found during testing that the folding appears to absorb a lot of energy that might have snapped something otherwise
In any event, let that be clear that this remains a stable and soft cruiser above all; you won't have much fun going bando bashing with it I can almost guarantee it 😄
Extremely efficient and long flight time – Over 20mins
The DVR to the right speaks for itself;
I was able to get over 20mins of decent acro flight time on a poorly tuned build with a mere VTC5A 2600mAh cell
I reckon this is not even near what this platform can achieve with a 3000mAh VTC6 and proper tune
How long can you fly?
HD Cam capable
The camera mount that comes with each kit isn't just for shows, it can definitely carry it 😄
Well maybe not your full-size gopro, but if you have a caddx peanut, insta360 go, or a thumb you'll get a lot of fun from it
I bring mine on short trips, takes no space in the bag, is quickly deployed, just a great little compact video rig
Now HDZero/Walksnail Capable!
The first batch of ~100 Wingmans was designed before lightweight HD FPV options became available
With this new batch I've implemented many small revisions, from cooling improvement to weight savings passing by M1.4 cam mount and improved general tolerances
This makes it a fantastic frame for HD FPV cruising, exploring and rediscovering the world with this new improved resolution
As such I've also created a 12mm stack height option giving more room to comfortably build a double stacked boards build
— not mandatory however for advanced builders  
To sum it up
just a great tool to always have with you, just so many uses for it
Toss it in your bag when you're going on vacation for drone videos (also a great excuse for your wife to bring a quad)
Use it to recon new spots to rip without going out of the car (walking? like with your legs?)
Search and rescue! Take advantage of the long flight time to look for a lost quad (I hope you find it brother/sister)
Attach a string to the back, fly around that branch you got your main quad stuck on, bring it back and give it a good tug (watch your head)
Or even get that whoop you got stuck on that roof (I know you could just climb up the gutter but come on it's 2022)
Guerilla dive! pull it out of pocket, deploy it in a second, rip that huge building tower (you know which one), fold it back in your pocket and bail
Or simply just cruise around for a relaxing chill flight, perhaps to wind down after a hard charger sesh (if you got the patience for it)
… or whatever else you want it to be!
I've built this frame not to be an alarmingly fast zippy freestyle rocket, or a purpose-built cinema rig to carry your gopro
I've built it to be always there when all your other quads are down,
Always there to have your back when you need it
Hence why I've named it so.
I've built it to be your Wingman.
I hope I got you as excited as I am about this new creation and I hope you get all the fun and use from it as I've been having!
Get yours today, tell me about it!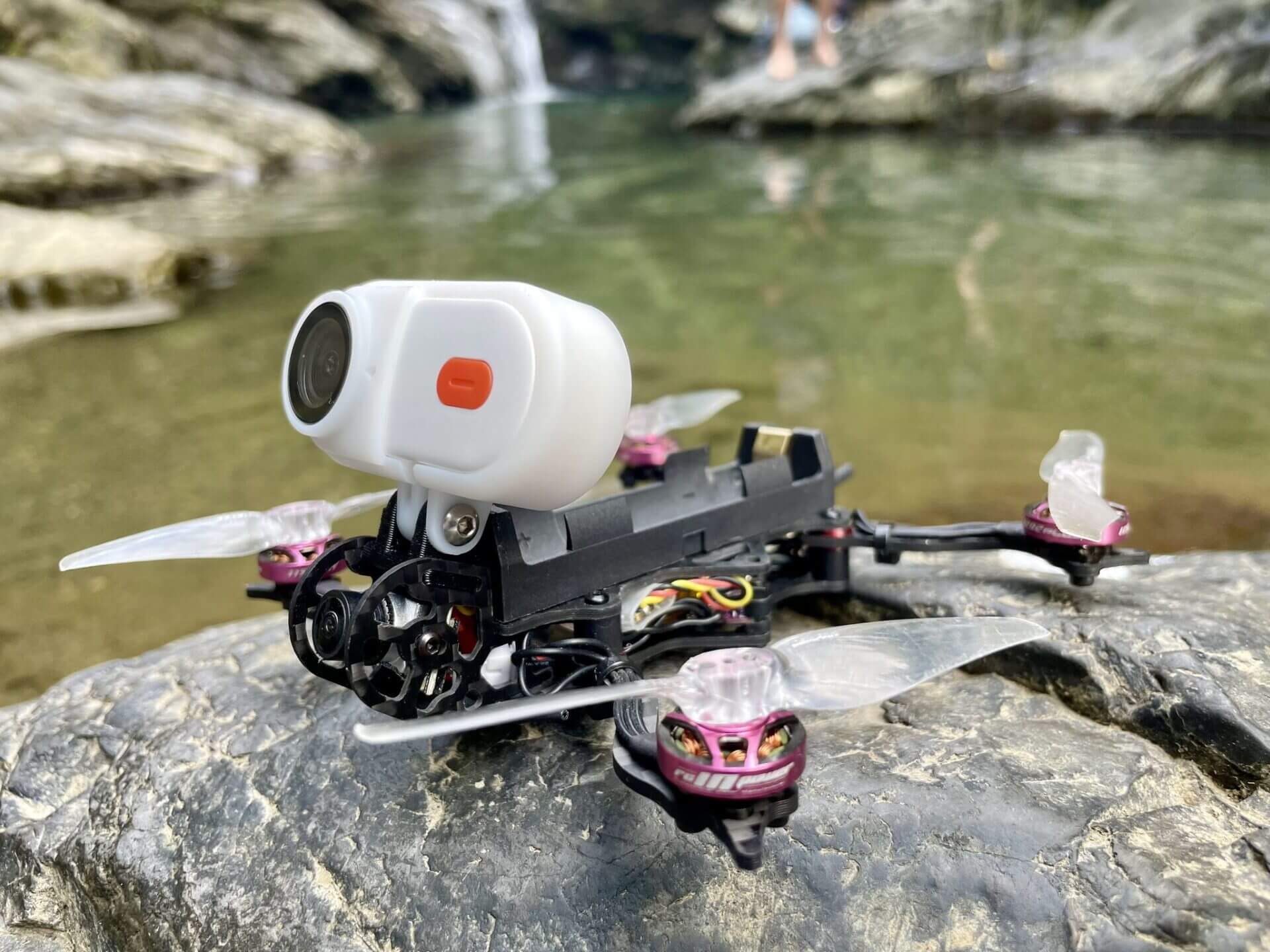 About the BNF – What do you get?
As a BNF, I will assemble a fully flight-ready craft that you can take out and fly right out the box
Comes with the AIO/Camera option of your choice;
Analog: HM F4 ELRS for lightweight 5A ESC, X12 for a more rugged 12A ESC or X12 Lite + OVX300 for the most robust analog build with discrete vtx powered by our bespoke 5V booster Caddx Ant camera. (~56g AUW excl. battery)
HDZero: X12 Lite, HDZero Whoop Lite bundle powered by our 5V voltage booster. (

~62g

AUW excl. battery)
The motors are the custom-made FE x TW 1202.5 11500KV
It will come tested and tuned to the latest, bleeding-edge firmware, including a Quicksilver tune, as well as BlueJay ESC firmware
I strongly recommend using high discharge 18650, such as Sony VTC5D, VTC5A or VTC6 – or equivalent
This should easily get you to around 20mins flight time, whether analog or HD Zero
Please note that each build is custom-built to order and goes through extensive tuning, testing and preparation before leaving the shop to make sure you get the best possible experience unboxing, plugging in and simply go fly.

And while I try my best to keep the batch sizes manageable on both my end and yours, it can get pretty busy on the bench at times.
I try to process every build within the week, but please allow for up to 2 weeks to account for occasional high demand
Content
1 x Wingman BNF
1 x Set of spare props
1 x Set of spare hardware
1 x Custom printed transport/storage box
Note: Due to continually ongoing development, the actual product you receive may differ from the pictures/description.