Who am I?
My name is Yves, from France, 33yo at this time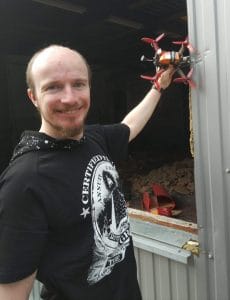 I've been tinkering with things for as long as I remember; dismantling everything I could find on my way, starting from toys to remotes, then moving on to cars, engines, etc.
So it's pretty naturally that I went for industrial design studies, leading me to start working as a consultant with various automotive equipment suppliers in 2011
From this time I designed anything automotive; Alternators for Ford, Fuel pumps for PSA, External Mirrors for Audi/VW, Headlights for Jaguar, Volvo.
Then 2 years later in 2013 I moved to Sweden, as a contractor design engineer for Volvo, working on structural and interior parts, insulations.
And while this was a lot of fun I still wanted more; so I started working on selling my engineering services in freelance
Closed my first deal with my first client in 2015 and quit my safe and frankly well-paid job to build this new freelance thing up to an agency and offer my engineering services to inventors.
This allowed me to travel all over the world, over 15 countries so far, helping my clients turn their crazy ideas into kickass products.
Eventually moved more permanently in Taiwan and built a prototyping lab with 3D printers, soldering stations, etc to provide continued support on the products I would design for my clients.
During that time I also taken an interest in FPV, not only flying but also building and working with Armattan, CL_Racing; Let that explain why you will find FPV products on there 🙂
Why this store?
Well quite simply after helping many clients achieve their dreams by developing their own products, the time was long due to developing my own!
Following the same set of values as for my agency, I want to bring the most unique and cool products to you.
I believe in industry 4.0 and this store is based on exactly that
That means small series, highly specialized, customizable products, that are tailor-made to maybe a smaller audience, but fits their need much, much more tightly
Basically creator suits for all your needs 🙂
I hope you will trust our products and look forward to your business!
Team Pilots