Description
If you answer yes to any of those, then the Fractal 65 was designed for you!
— A little backstory —
The lifecycle of this craft started back in 2018 already, right around when brushless 0603 powertrains appeared and started looking like a solid next step in 65mm whoop class
Back then I entered the class with a UR65, and although it flew great compared to any other canopy whoop I've tried before, something was still off…
The nylon frame didn't seem to hold up very well to the added weight and power from the brushless era design.
It needed to improve on 2 main factors; rigidity and weight.
So I went to work and came up with the first revision of the project, based on the CrazybeeF3 board and 0603 spinners.
Basically an UR65 powertrain on a carbon frame with individual ducts and 3D printed parts
And while it was great for my basher use, the weight, at 23g wasn't quite up to my standard…so the project fell off, waiting for better hardware to support the idea…
For almost 3 years I kept flying the first revision occasionally until Happymodel released the right hardware that would make it all possible this time…
You may think there isn't much to it, that I'm just pulling it out of my arse, but trust me, there is lots of R&D and testing that went into it; I wouldn't have released it otherwise.
This frame was designed to the lightest it could, where it could, without compromising strength, where it needed it the most, in true aerospace engineering fashion.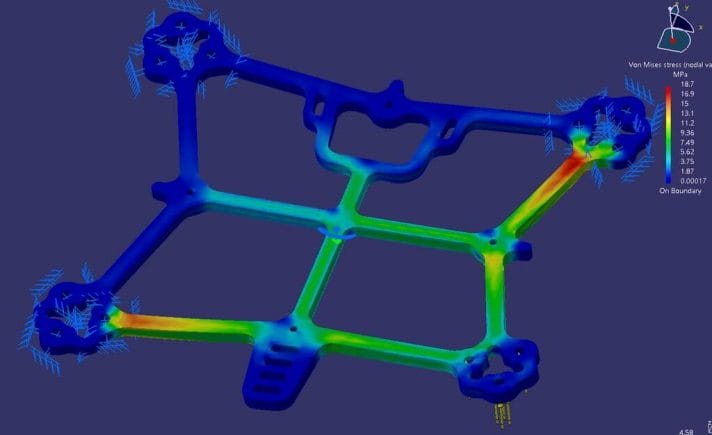 here's a little snippet of the FEA optimization I performed,
ensuring the stress gets spread out across the whole structure without concentrations
— So what about that frame? —
Remaining true to its original intent, the Fractal65 features:
65mm diagonal, squished X geometry, for 31mm props
1.5mm Carbon Fiber / Individual Nylon ducts hybrid construction
Low-profile camera mount, no props in view, no tilt offset
Low Center of Gravity, by bringing the AIO closer to the frame/motors
Allows mounting with USB pointing up for easy accelerometer calibration
No need for a canopy as all electronics are tucked safely between the ducts
Maximum rigidity where it matters most; connecting the motors to the FC
Easy maintenance, break one duct, replace only the single duct
Lightweight, less than 19.5g with HM DiamondF4
As always, this is a project that I designed for myself first, that I put together in a product to share with any pilot that would like to experience the same level of requirements!
Designed with love, by a pilot, for pilots.
But don't take my word for it, here's what Team Pilot Glenn "Bellaciao" has to say about it:
I am using the whoop at Full Send FPV's races every week. I've been finishing higher and higher, even got a podium the other day. It is extremely stable in flight, and working on it has been incredibly easy. I am surprised at how the flight controller has held up – it is more protected than I expected. Redpine is a dream. Putting an 85% throttle cap on it improves the battery vastly. For angle racing, the camera angle was too aggressive. After a buddy glued the camera to about a 30 degree angle greatly improved angle racing performance, at the cost of acro performance. I cannot state enough how much I love the flight performance, stability, and workability of this platform. I already am planning on building a second one to use as my backup racer, and want to use this as my racing whoop frame, period.
— What do you get? —
As a BNF, I will assemble a fully flight-ready craft that you can take out and fly right out the box
You have several build options to choose from;
Analog: Runcam Nano 3 camera, Diamond F4 AIO Flight Controller, ELRS 3.0 or Frsky for super lightweight (~19g AUW excl. battery)
HDZero: Superbee F4 Flight controller, HDZero Whoop Lite VTX and Runcam Nano Lite camera (~25g AUW excl. battery) – a rather heavy build for this size; not recommended unless you have really good BT2.0 batteries and don't mind a couple of minutes flight time only
And EX0802 or SE0702 motors of your choice. JST-PH pigtail by default, BT2.0 optional
A quick note on EX0802 motor gearing, 19000kv will be best suited for long flight time and efficiency – still does pack quite a punch, as you can witness from the video above with this build. Should be able to do well into the 3-4mins on a 300-450mah
22500k will grant you significantly more power while remaining fairly balanced, and well 25500k is just ludicrously fast. It will pump the juice out of your lipos but those 3mins of flight time will give you a hell of a kick. You may still use a throttle cap to make it more controllable in tight environments 🙂
SE0702 in either 23000kv or 26000kv are both extremely zippy and lightweight, at the expense of throttle resolution. Not recommended for general use; only if you're looking to push boundaries, on the track or otherwise
It will be tuned to the latest, bleeding-edge firmware, including a Quicksilver tune, as well as BlueJay ESC firmware
Please note that each build is custom-built to order and goes through extensive tuning, testing and preparation before leaving the shop to make sure you get the best possible experience unboxing, plugging in and simply go fly.

And while I try my best to keep the batch sizes manageable on both my end and yours, it can get pretty busy on the bench at times.
I try to process every build within the week, but please allow for up to 2 weeks to account for occasional high demand
— Contents: —
1x Fractal 65 BNF
1x Spare Gemfan props sets
Spare components (scews, TPU…)
Notes:
-Due to continually ongoing development the actual product may differ from pictures.
— Video Reviews: —