Description
Are you a whoop racer looking for the sharpest performance without compromising reliability?
Or perhaps a freestyle pilot that wants a robust frame with quick maintenance?
Maybe you simply want a stronger alternative to those flimsy nylon frames to keep you longer in the air?
If you answer yes to any of those, then the Fractal 65 was designed for you!
— A little backstory —
The lifecycle of this craft started back in 2018 already, right around when brushless 0603 powertrains appeared and started looking like a solid next step in 65mm whoop class
Back then I entered the class with a UR65, and although it flew great compared to any other canopy whoop I've tried before, something was still off…
The nylon frame didn't seem to hold up very well to the added weight and power from the brushless era design.
It needed to improve on 2 main factors; rigidity and weight.
So I went to work and came up with the first revision of the project, based on the CrazybeeF3 board and 0603 spinners.
Basically an UR65 powertrain on a carbon frame with individual ducts and 3D printed parts
And while it was great for my basher use, the weight, at 23g wasn't quite up to my standard…so the project fell off, waiting for better hardware to support the idea…
For almost 3 years I kept flying the first revision occasionally until Happymodel released the right hardware that would make it all possible this time…
You may think there isn't much to it, that I'm just pulling it out of my arse, but trust me, there is lots of R&D and testing that went into it; I wouldn't have released it otherwise.
This frame was designed to the lightest it could, where it could, without compromising strength, where it needed it the most, in true aerospace engineering fashion.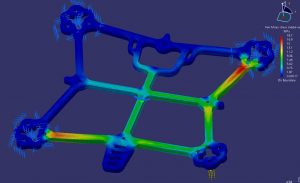 here's a little snippet of the FEA optimization I performed,
ensuring the stress gets spread out across the whole structure without concentrations
— So what about that frame? —
Remaining true to its original intent, the Fractal65 features:
65mm diagonal, squished X geometry, for 31mm props
1.5mm Carbon Fiber / Individual Nylon ducts hybrid construction
Low-profile camera mount, no props in view, no tilt offset
Low Center of Gravity, by bringing the AIO closer to the frame/motors
Allows mounting with USB pointing up for easy accelerometer calibration
No need for a canopy as all electronics are tucked safely between the ducts
Maximum rigidity where it matters most; connecting the motors to the FC
Easy maintenance, break one duct, replace only the single duct
Lightweight, around 19.5g with HM DiamondF4
As always, this is a project that I designed for myself first, that I put together in a product to share with any pilot that would like to experience the same level of requirements!
Designed with love, by a pilot, for pilots.
Cheers!
__Yves
— What do you get? —
As a BNF version you will get a ready-to-fly quad assembled by yours truly
It will come with a Happymodel Diamond F4 Frsky only, Runcam Nano 3 camera and EX0802 motors of your choice. JST-PH pigtail as opposed to pictured.
It will be tuned to the latest, bleeding edge firmware, including a Project Mockingbird based Betaflight tune with RPM filtering and actual rates, as well as BlueJay ESC firmware
I sometimes help out assembling pre-builts with Armattan, so if you've ever seen the standard to which these are built, or seen my soldering jobs before you know it will be top notch.
Contents:
1x Fractal 65 Frame Kit
1x Happymodel Diamond F4 Frsky
4x EX0802 motors
1x Runcam Nano 3
2x Gemfan prop sets (one assembled, one spare)
Notes:
-Due to continually ongoing development the actual product may differ from pictures.