Description
As of today, this pre-order version is discontinued, but stay tuned as they might be coming back near you soon 🙂
Please register to the newsletter to know when and where!
Attention! This product is available on a pre-order basis; ETA early November, more details at the end!
I will make a few extras, however I may not make another batch for a long time!
Order yours today before it's gone; time until the pre-order end:
2020-10-02 Pre-Order Campaign Update
10% Donation to local pet shelter

I'm pledging to donate 10% of the revenue to my local pet shelter here in Taiwan; it's a great organization that's doing a fine job helping out stray dogs, cats find a new home, but also allows sponsoring and does neutering.

You can check it out here:

http://kcsaa.org.tw/

and everyone will receive a copy of the receipt on the campaign end

Stickers!

As we all love stickers especially when they look cool and rep a company we support, I'm having custom die-cut vinyls made that will come with every box

LASERS!

I tested out my laser engraver on the PCB and the results are great; so I'm offering the option for everyone to add their board serial number and FPV name to the back of the boards to make it their very own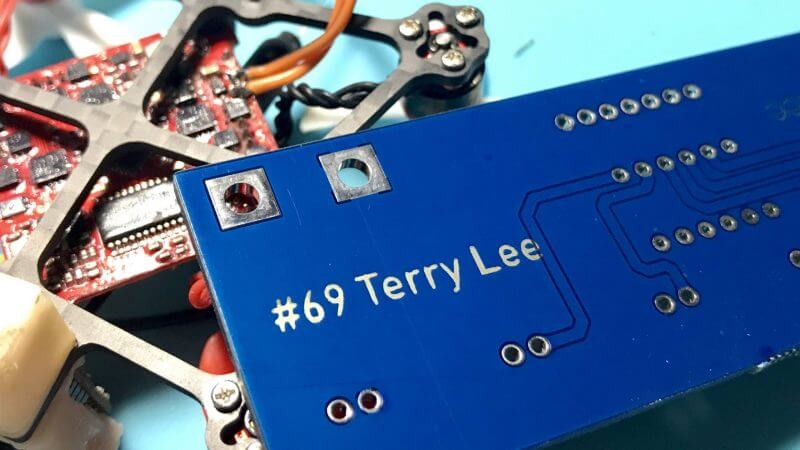 Don't forget to include what name you would like engraved in the order notes!
What is it and what it do?
Are you sick and tired of cheap 1S lipo chargers with limited functionally and often inaccurate calibration?
Do you wish you could use your good 4/6S charger to balance charge/uncharge/storage or even check internal resistance?
Well me too
That's why I designed this balance charging board that would allow doing just that!
And unlike the dumb balance wire looms that only work when all of the plugs are used,
I've added a jumper so that you don't have to populate all 6 ports to close the balance circuit.
Just place the jumper the number of lipos you're planning to charge and that will make it a 1 to 6S lipo to your charger!
How is it made?
With love of course 🙂
But also with the most rigorous standard for safety and quality.
The PCB board I designed from thick traces, copper filled on both sides for thermal dissipation
The VIN and balance leads are assembled from 100mm, silicone wires, and genuine Amass XT60
The jumpers are encased in a custom-designed, 3D printed connector that keeps foreign objects away, and forbids the bravest of you to attempt plugging the lipo in the wrong place
And the assembly performed by yours truly, with testing on each unit.
In other words, I've ironed down every detail with the help of valuable community feedback to bring you the best charging device for your whoop lipos
It is not a hastily tossed together cash-grab.
It is the result of several unsatisfactory iterations, samples and prototypes that I wouldn't offer if I wasn't 100% happy with.
How will the pre-order go?
Now to the real business.
First of all the reason for the pre-order is because it is hard to anticipate how much interest there will be for that product.
What was initially just a one-off run for myself and some friends turned out to be useful to quite a few more, so here's the deal
Week 41 – The preorder campaign will be open until Sunday, 11th of October. All orders placed until then will be guaranteed to be included in the 1st batch
Week 42 – The next day, on Monday, 12th of October All components will be purchased
Week 43 – I'll be expecting all components to arrive within the following week or 2, starting production during the week of 19th of October
Week 45 – Accounting for late component deliveries, shipping should start during the first week of November
If you like these terms then please go back to the top, chose your variant and back-order yours today!
About the BT2.0 Version:
There has been a significant amount of requests for BT2.0 connector option.
However, as those of you know it is not a cheap plug.
Therefore I'm happy to have found an option that would make everyone happy
All boards will come with BT2.0 provisions; meaning you can order a standard PH2 board and install your own BT2.0 plugs if you wish.
To make sure this part is clear:
Standard boards come with PH2 only and unpopulated BT2.0 holes
BT2.0 boards come with both PH2 and BT2.0 populated
All clear? Good!
Now for those that want it preinstalled, I got you a nice deal 😉
If you were to get your own from Betafpv you would need to purchase 2 packs of 10 male/female connectors at $8 each (or one of the 10x floppy adapters for $8)
Well if we can make it to 16 units I can get you the wholesale deal for only $4 more 🙂
So if you're a BT2.0 user and you got friends that do too, please make sure to share this page with your friends to make sure we reach these 16 orders!
Updates and Communication
If there's one thing I learned from my 5 years of experience with my agency designing products for my clients, it's that communication is key.
By ordering this board on a preorder we'll become part of the same team; we'll both want the same thing, getting your product made and delivered to you.
And to make sure we get there smoothly I will be sending weekly updates on the progress, to keep you involved in the journey
And that about wraps it up!
Thank you for reading me, I hope everything is clear, but please send me a message if you got any questions!